Thank You to the Sponsors of our 2022 Veterans Parade
Gold Star Parade Sponsor
M.G. Santos, Inc.
Shawn George, Law Office
Winning Team Marketing
David Santos Farming
RPAC, LLC
Morning Star Packing Company
Mid Valley Disposal
Red, White and Blue Sponsors
Save Mart, Los Banos
Peninsula Clean Energy
Alyce Hunter
Ingomar Packing Co.
Clyde Soverns
Young's Air Conditioning
Trans County Title
Pentagon Co./Delta Farms
Pearson's Jewelers
O'Ray Sheets
Merced County Sheriff's Posse
Jungle Jim's Adventure Island
Espanas Southwest Bar & Grill
Cen-Cal Air Inc.
County of Merced
Eagle Field
Jerry Cornell
Jesse & Lorraine Castillo
Knights of Columbus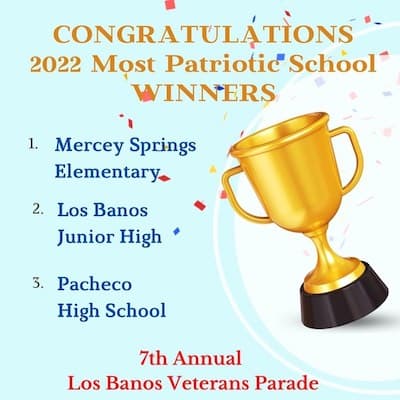 2023 Los Banos Veterans Parade
Saturday, November 4, 2023
11:00 am
Salute to the Air Force
In 2014, the Los Banos American Legion Post 166 and the VFW Post 2487 joined together to provide a Veterans Parade.  As Los Banos is a small town, it was decided to hold the parade the weekend before Veterans Day in an effort to not compete with the festivities of the larger neighboring towns.
The primary purpose of our Veterans Parade is to honor all military veterans and their families.  Additionally, it is to educate and inspire community awareness while paying tribute to the service and sacrifices all veterans have endured in the pursuit of freedoms.  While all veterans are honored, each year the committee selects a "theme" for the parade.
The Los Banos Veterans Parade Committee is formed by a group of volunteers, both veterans and non-veterans, and welcomes new committee members.  If you would like more information about the various ways you can be involved, be sure to visit our parade volunteer page.
Need parade information?  Contact Patricia McCoy at 209-587-5033.
Highlights from Previous Parades